Up to half of the world's amphibian species are in danger of being wiped out and over 165 types of frogs, toads and salamanders have already been lost, never to be seen again. This equates to the largest mass extinction since the disappearance of the dinosaurs.
The world's leading conservationists have come together to declare 2008 ''The Year of the Frog" and Marwell is helping to avert this crisis by launching its own appeal 'Leap 4 Life'.
The amphibian decline is mainly due to man's destruction of their habitats but they now face an even bigger and deadlier threat - amphibian chytrid. This unstoppable fungus is spreading uncontrollably over the world and kills many amphibian species it comes into contact with in a matter of months.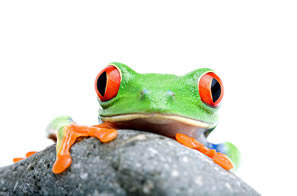 Get involved in Marwell Zoological Park's 'Leap 4 Life' appeal and find out how to help avert this crisis. From frogs to toads and newts, children can learn all about and search out Marwell's various amphibian species.
Visit the how can you help area to discover how to get involved.
Read more information about the Amphibian Crisis.
Download children's activities in our downloads area.
Complete our Leaping Letter Amphibian Trail when you visit the park for a chance to win a face to face animal experience.